Auto closing in 2 seconds
Giant ovarian cyst masquerading as a massive ascites: a case report
Case presentation
Herein, we present the case of a 65-year-old black African woman, who was referred to their centre for the management of a massive ascites. She presented with a 5-year history of progressive abdominal distension. She had no abdominal pain, nausea, vomiting or change in bowel habit but complained of increased urinary frequency. She was a grand multipara with parity of 6 and had no relevant past medical history.
Physical examination revealed pink conjunctivae and anicteric sclerae. Her vital parameters were normal and her weight was 65 kg. Her abdomen was grossly distended with full flanks and visible striae (Fig. 1). It was soft and non-tender with an abdominal girth of 115 cm. Percussion notes were dull over the entire abdomen and fluid thrill was present. Examination of the cardiovascular and urogenital systems were unremarkable.
The following investigations were done: a complete blood count which was normal with a haemoglobin level of 12 g/dl, an abdominal ultrasound scan which was suggestive of a massive fluid-filled multilocular cavity of right ovarian origin with a thin covering and bowel loops shifted against the diaphragm. Other haematological or biochemical serum tests were normal. We concluded on the diagnosis of a right giant multiloculated ovarian cyst.
Following counselling and consent, a right ovarian cystectomy was done through a laparotomy with a midline incision (Fig. 2). Intraoperative findings included a GOC arising from the right ovary with a gelatinous hyper vascularised membrane. The cyst was excised with membranes intact and it measured 55 × 52 × 24 cm and weighed 10.8 kg (Fig. 3). Histopathology revealed mucinous cystadenoma. The postoperative period was uneventful and she was discharged on the 5th postoperative day with a weight of 54 kg.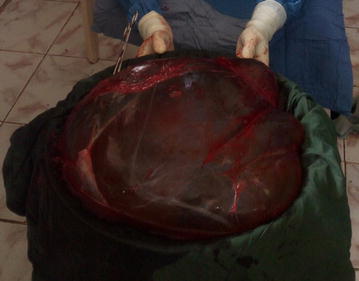 References
References
de Lima SHM, dos Santos VM, Darós AC, Campos VP, Modesto FRD. A 57-year-old Brazilian woman with a giant mucinous cystadenocarcinoma of the ovary: a case report. J Med Case Rep. 2014;8:82. doi: 10.1186/1752-1947-8-82. [PMC free article] [PubMed] [CrossRef] [Google Scholar]
Bhasin SK, Kumar V, Kumar R. Giant ovarian cyst: a case report. JK science. 2014;16:3. [Google Scholar]
Rossato M, Burei M, Vettor R. Giant mucinous cystadenoma of the ovary mimicking ascites: a case report. Clin Med Rev Case Rep. 2016;3:103. doi: 10.23937/2378-3656/1410103. [CrossRef] [Google Scholar]
Mohammed Elhassan SA, Khan S, El-Makki A. Giant ovarian cyst masquerading as massive ascites in an 11-year-old. Case Rep Pediatr. 2015;2015:4. [PMC free article] [PubMed] [Google Scholar]
Kassidi F, Moukit M, Ait El Fadel F, El Hassani ME, Guelzim K, Babahabib A, et al. Successful management of a giant ovarian cyst: a case report. Austin Gynecol Case Rep. 2017;2:1012. [Google Scholar]
Cîrstoiu MM, Sajin M, Secară DC, Munteanu O, Cîrstoiu FC. Giant ovarian mucinous cystadenoma with borderline areas: a case report. Rom J Morphol Embryol. 2014;55:1443–1447. [PubMed] [Google Scholar]
Mehboob M, Naz S, Zubair M, Kasi MA. Giant ovarian cyst—an unusual finding. J Ayub Med Coll Abbottabad JAMC. 2014;26(2):244–245. [PubMed] [Google Scholar]
Sulb AA, El Haija MA, Muthukumar A. Incidental finding of a huge ovarian serous cystadenoma in an adolescent female with menorrhagia. SAGE Open Med Case Rep. 2016;4:1–4. [PMC free article] [PubMed] [Google Scholar]
Hart WR. Mucinous tumors of the ovary: a review. Int J Gynecol Pathol. 2005;24:4–25. [PubMed] [Google Scholar]
Katke RD. Giant mucinous cystadenocarcinoma of ovary: a case report and review of literature. J Mid-life Health. 2016;7:41–44. doi: 10.4103/0976-7800.179167. [PMC free article] [PubMed] [CrossRef] [Google Scholar]
Alver D, G¨ul C, Celayir AC, Sahin D. A case of ovarian torsion with a serous cyst and coexisting serous cystadenoma in the contralateral ovary. J Ped Sur Special. 2009;3:50–52. [Google Scholar]
Kazem Moslemi M, Yazdani Z. A huge ovarian cyst in a middle—aged iranian female. Case Rep Oncol. 2010;3:165–170. doi: 10.1159/000314525. [PMC free article] [PubMed] [CrossRef] [Google Scholar]
Einenkel J, Alexander H, Schotte D, Stumpp P, Horn LC. Giant ovarian cysts: is a pre and intra operative drainage an advisable procedure? Int J Gynecol Cancer. 2006;16:2039–2043. doi: 10.1111/j.1525-1438.2006.00745.x. [PubMed] [CrossRef] [Google Scholar]
Mani R, Jamil K, Vamcy MC. Specificity of serum tumor markers (CA125, CEA, AFP, Beta HCG) in ovarian malignancies. Trends Med Res. 2007;2(3):128–134. doi: 10.3923/tmr.2007.128.134. [CrossRef] [Google Scholar]
Eagle K, Ledermann JA. Tumor markers in ovarian malignancies. Oncologist. 1997;2(5):324–329. [PubMed] [Google Scholar]
Sujatha VV, Babu SC. Giant ovarian serous cystadenoma in a postmenopausal woman: a case report. Cases J. 2009;2:7875. doi: 10.4076/1757-1626-2-7875. [PMC free article] [PubMed] [CrossRef] [Google Scholar]
Fobe D, Vandervurst T, Vanhoutte L. Giant ovarian cystadenoma weighing 59 kg. Gynecol Surg. 2011;8:177–179. doi: 10.1007/s10397-010-0593-0. [CrossRef] [Google Scholar]