Auto closing in 2 seconds
Types of human brain stroke
What is a stroke?
A stroke is a medical emergency that happens when the blood flow to your brain is interrupted. Without blood, your brain cells start to die. This can cause serious symptoms, lasting disability, and even death.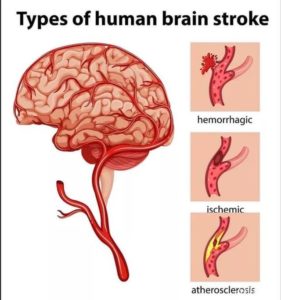 Ischemic stroke
Most strokes (87%) are ischemic strokes. An ischemic stroke happens when blood flow through the artery that supplies oxygen-rich blood to the brain becomes blocked.
Blood clots often cause the blockages that lead to ischemic strokes.
Hemorrhagic stroke
A hemorrhagic stroke happens when an artery in the brain leaks blood or ruptures (breaks open). The leaked blood puts too much pressure on brain cells, which damages them.
High blood presure and aneurysms—balloon-like bulges in an artery that can stretch and burst—are examples of conditions that can cause a hemorrhagic stroke.
There are two types of hemorrhagic strokes:
Intracerebral hemorrhage is the most common type of hemorrhagic stroke. It occurs when an artery in the brain bursts, flooding the surrounding tissue with blood.
Subarachnoid hemorrhage is a less common type of hemorrhagic stroke. It refers to bleeding in the area between the brain and the thin tissues that cover it.
Transient Ischemic Attack (TIA)
A transient ischemic attack (TIA) is sometimes called a "mini-stroke." It is different from the major types of stroke because blood flow to the brain is blocked for only a short time—usually no more than 5 minutes. The blood clot and TIA symptoms last for a short period of time.
A transient ischemic attack can serve as both a warning and an opportunity — a warning of an impending stroke and an opportunity to take steps to prevent it.