Auto closing in 2 seconds
Seven year old girl with intense chemical burns and scars after getting a black henna tattoo
A seven-year-old girl was left with horrifying chemical burns and scars after getting a black henna tattoo on a holiday in Egypt.
Madison Gulliver was on holiday when her father Martin allowed her to get the temporary tattoo on her arm at a four-star hotel.
However she soon complained of it being itchy and it then erupted in painful blisters.
The primary school pupil had to have the blisters cut away in a specialist burns unit, which left her with scars up her arm.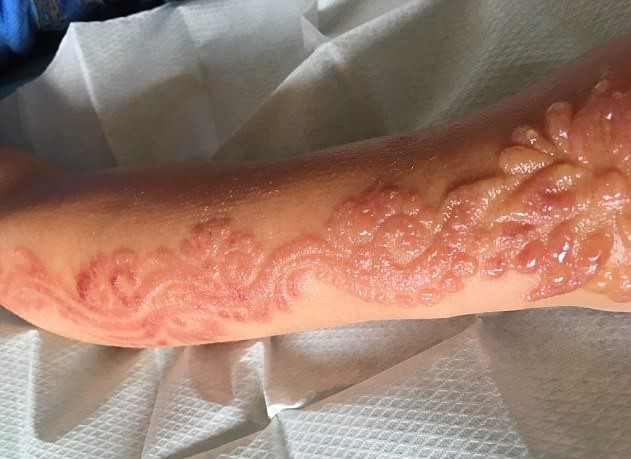 After five visits to St Mary's Hospital where they were given different creams and ointments, she was finally referred to burns' specialists Salisbury District Hospital.
He said: 'We started to panic. They had never seen it before, and each time we went in they were trying different things but it was getting worse and worse.'
Doctors carried out a test on the liquid seeping from the blisters on Madison's arms and were shocked to discover a high PH level, indicating a chemical burn.
'They decided to treat the skin by removing the blisters, so they could access the burned skin underneath,' Martin continued.
'They thought they would be able to soak the blisters and rub them off, but that wasn't possible as they were so thick, so they had to cut them off.'
Madison has now been referred to a scar management unit and has to wear a pressure bandage for at least six months to minimise the scars covering her arm.